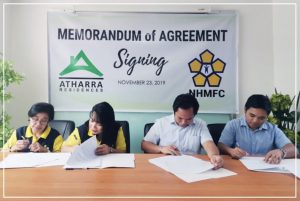 With the common desire to serve aspiring Filipino homeowners with affordable quality homes, Atharra Residences and National Home Mortgage Finance Corporation (NHFMC) formalize its partnership during a memorandum of agreement (MOA) signing held on November 23, 2019. Present at the event were (from left to right): Maricel Purificacion and Susan Navela of NHMFC Loan Mortgage Department, Atharra Residences President Darrel Digal and Atharra Residences Vice President Godfrey Digal.
The agreement, signed in a simple ceremony held at the office of Atharra Residences, is made in line with the thrust of NHFMC to offer low-interest rates and faster loan approval.
This partnership is a step forward for Atharra Residences to extend its service to the Filipinos. Atharra Residences is committed to building sustainable communities that support comfortable living. Its profile offers a wide collection of house designs that match every Filipino family's lifestyle and budget.